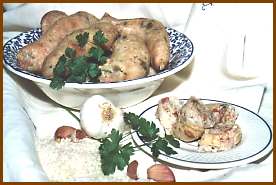 Manufacture:
Rice, meat and lamb lard, parsley, garlics, spices and salt, kneaded and wrapped by lamb guts, closed and sewn by hand, and submitted to boiling. Without additive.
Suggestions:
Open the bag some hours before consume.
They can be eaten recently cooked, or muffled with egg and flour, fried in olive oil. Combine as appetizer, garnish, even as a first or second plate.