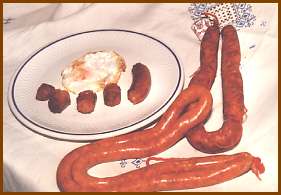 Fresh Chorizo and Chistorra
Manufacture:
Highly seasoned pork sausages.
Shoulder blade, 1st and 2nd pork lean, stung and kneaded with salt, sugars, spices, garlics and paprika. Without preservatives. The Chorizo inlaid in pork gut and bundle in portions of 5 to 7 cm., the Chistorra inlaid in lamb gut. Both hung in horse-shoe.
Suggestions:
Open the bag some hours before consume.
Cut in chunks and fried in olive oil or giving taste to stews, cooked, pottages and sauteed.